Government Schemes in India play a crucial role in solving many socio-economic problems that beset Indian society, and thus their awareness is a must for any concerned citizen. These are launched by the government to address the social and economic welfare of the citizens of this nation. National Digital Health Mission is a mission to harness technology to improve the efficiency, effectiveness, and transparency of healthcare delivery in India, through better access to healthcare data.
TOPICS COVERED IN THE ARTICLE
National Digital Health Mission
Key Features of NDHM
Background
---
NATIONAL DIGITAL HEALTH MISSION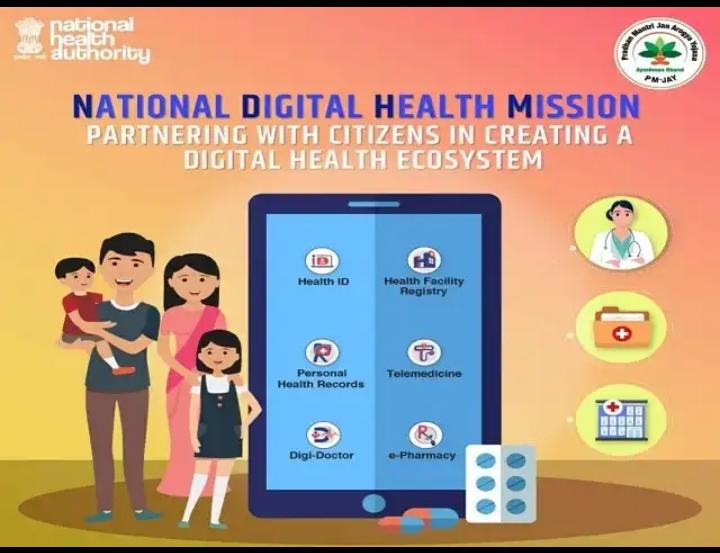 A national digital health ecosystem will be created through the provision of a wide-range of data, information and infrastructure services, duly leveraging open, interoperable, standards-based digital systems while ensuring the security, confidentiality and privacy of health-related personal information. NDHM seeks to create a national digital health infrastructure starting with the building of Health IDs, Unique Identifiers for doctors and health facilities, Personal Health Records, and telemedicine and e-pharmacy, among other components.
KEY FEATURES OF THE SCHEME
The NDHM is a complete digital health ecosystem. The digital platform will be launched with four key features — health ID, personal health records, Digi Doctor and health facility registry.
At a later stage, it will also include e-pharmacy and telemedicine services, regulatory guidelines for which are being framed.
The NDHM is implemented by the National Health Authority (NHA) under the Ministry of Health and Family Welfare.
The National Health Authority (NHA), is also the implementing agency for Ayushman Bharat.
The platform will be available in the form of an app and website.
The Digi Doctor option will allow doctors from across the country to enrol and their details, including their contact numbers if they want to provide them, will be available.
These doctors will also be assigned digital signatures for free which can be used for writing prescriptions.
It will be voluntary for the hospitals and doctors to provide details for the app.
HEALTH ID
The national health ID will be a repository of all health-related information of every Indian.
Various healthcare providers — such as hospitals, laboratories, insurance companies, online pharmacies, telemedicine firms — will be expected to participate in the health ID system.
Every patient who wishes to have their health records available digitally must create a unique Health ID, using their basic details and mobile or Aadhaar number.
Each Health ID will be linked to a health data consent manager, which will be used to seek the patient's consent and allow for seamless flow of health information from the Personal Health Records module.
The Health ID will be voluntary and applicable across states, hospitals, diagnostic laboratories and pharmacies.
BACKGROUND
A committee headed by former Unique Identification Authority of India (UIDAI) chairman released the National Digital Health Blueprint in July 2019.

NDHB recognised the need to establish a specialised organisation, called the National Digital Health Mission (NDHM), to facilitate the evolution of the National Digital Health Ecosystem.

On 7th August 2020, National Digital Health Mission (NDHM) released its latest strategic document, outlining the envisioned digital registries of doctors, hospitals, pharmacies, and insurance companies, digital personal health records, and digital clinical decision systems.
In the context of this, the central government's  NITI Aayog, in June 2018, floated a consultation of a digital backbone for India's health system — National Health Stack (NHS).

NHS was intended to be a digital infrastructure built with the aim of making the health insurance system more transparent and robust, while factoring in the uniqueness of India's health sector, and the political realities of federalism.

The National Health Policy 2017 had envisaged creation of a digital health technology eco-system aiming at developing an integrated health information system that serves the needs of all stakeholders and improves efficiency, transparency and citizens' experience with linkage across public and private healthcare.

A Digital Health ID was proposed to "greatly reduce the risk of preventable medical errors and significantly increase quality of care".
Read about the National Health Policy on the page linked here.
---
In order to test the dynamic knowledge of the candidate, UPSC and other Government  Exams will have questions regarding the various schemes overseen by the Government of India. So the candidate is required to know about these schemes. More government schemes here