Government Schemes in India play a crucial role in solving many socio-economic problems that beset Indian society, and thus their awareness is a must for any concerned citizen. These are launched by the government to address the social and economic welfare of the citizens of this nation. Prime Minister Street Vendor's AtmaNirbhar – PM SVANidhi is being implemented by Union Government to help street vendors affected by Covid 19 lockdown. The scheme is fully funded by Union Ministry of Housing and Urban Affairs.
TOPICS COVERED IN THE ARTICLE
PM SVANidhi
Key features
Interest subsidy and credit limits
Main focus of scheme
E-Governance
Role of Urban local bodies
Plan Ahead
---
PM – SVANidhi
As per the SVANidhi scheme, urban street vendors will be eligible to avail a working capital loan of up to `10,000 with tenure of one year and to be  repaid in monthly instalments. For this loan, no collateral will be taken by the lending institutions. On timely or early repayment, the vendors will be eligible for the next cycle of working capital loan with an enhanced limit. No prepayment penalty will be charged from the vendors for repayment before the scheduled date. The vendors, availing loan under the scheme, are eligible to get an interest subsidy @ 7%. The interest subsidy amount will be credited into the borrower's account quarterly. Lenders will submit quarterly claims for interest subsidy for quarters ending  on June 30, September 30, December 31 and March 31 during each financial year. The onboarded vendors would be incentivised with a monthly cashback in the range of Rs 50 – Rs 100 for digital transactions. Scheduled Commercial Banks, Regional Rural Banks (RRBs), Small Finance Banks (SFBs), Cooperative Banks, Non-Banking Finance Companies (NBFCs), Micro Finance Institutions (MFIs) & SHG Banks can give credit assistance under this scheme..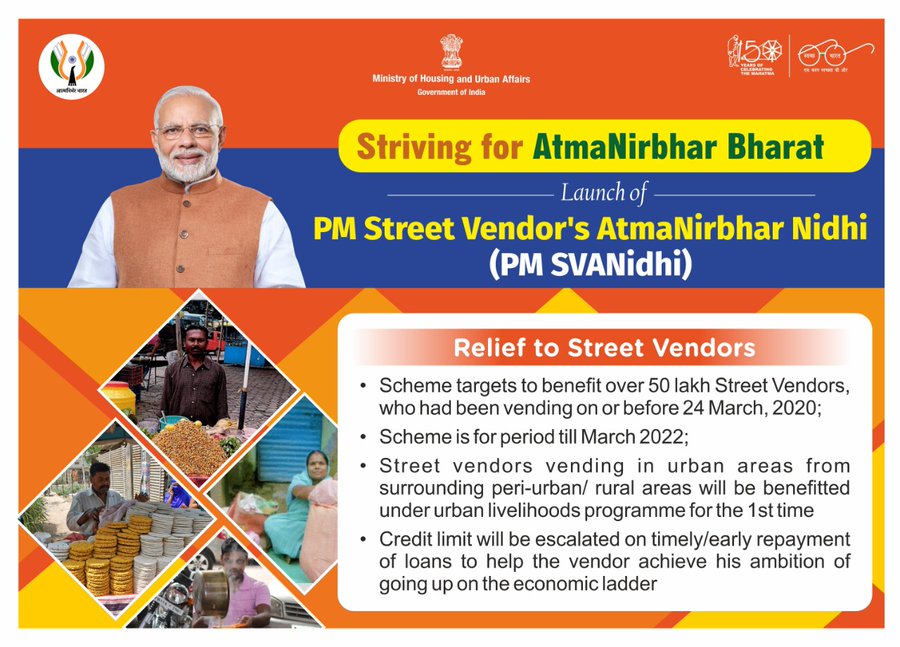 KEY FEATURES
Loan facility:
The vendors can avail a working capital loan of up to Rs. 10,000, which is repayable in monthly instalments within a year. The loans would be without collateral.

It is for the first time that Microfinance Institutions, Non-Banking Financial Company, Self Help Groups have been allowed in a scheme for the urban poor due to their ground level presence and proximity to the urban poor including the street vendors

There will beno penalty on early repayment of loan.

Early repayment (or resettlement) is a clearance of debt or loan before the scheduled time. Many banks and lenders charge penalties for repaying loans early.

Those who were vending till 24th March, 2020 can avail the benefits of the scheme.

This is for the first time that street vendors from peri- urban/rural areas have become beneficiaries of an urban livelihood programme.

The scheme is valid until March 2022.
INTEREST SUBSIDY & CREDIT LIMITS
On timely/early repayment of the loan, an interest subsidy of 7% per annum will be credited to the bank accounts of beneficiaries through direct benefit transfer on a six monthly basis.
The scheme provides for the rise of the credit limit on timely/ early repayment of loans i.e. if a street vendor repays the installments on time or earlier, he or she can develop his or her credit score that makes him/her eligible for a higher amount of term loan such as Rs. 20,000.
The scheme incentivises digital transactions by the street vendors through monthly cash back.
MAIN FOCUS OF SCHEME
MoHUA in collaboration with State Governments will launch a capacity building and financial literacy programme of all the stakeholders and Information, Education and Communication (IEC) activities throughout the country during the month of June and loaning will commence in the month of July.
E-GOVERNANCE
In line with the vision of leveraging technology to ensure effective delivery and transparency, a digital platform with web portal/ mobile app is being developed to administer the scheme with end-to-end solution.
This platform will integrate the web portal/ mobile app with UdyamiMitra portal of SIDBI for credit management and PAiSA portal of MoHUA to administer interest subsidy automatically.
It will help in integrating the vendors into the formal financial system.
ROLE OF URBAN LOCAL BODIES
ULBs will play a pivotal role in the implementation of the scheme by ensuring to target the beneficiary and reaching to them in an efficient manner. Street Vendors engaged in vending in urban areas as on or before March 24, 2020 are eligible for benefit under PM SVANidhi Scheme.  The eligible vendors are identified as per following criteria:
Street vendors in possession of Certificate of Vending / Identity Card issued by Urban Local Bodies (ULBs);
The vendors, who have been identified in the survey but have not been issued Certificate of Vending / Identity Card;
Street Vendors, left out of the ULB led identification survey or who have started vending after completion of the survey and have been issued Letter of Recommendation (LoR) to that effect by the ULB / Town Vending Committee (TVC); and
The vendors of surrounding development/ peri-urban / rural areas vending in the geographical limits of the ULBs and have been issued Letter of Recommendation (LoR) to that effect by the ULB / TVC.
PLAN AHEAD
The loans through the scheme would help to kick-start activity for vendors who have been left without any income due to the impact of Covid-19 and lockdown.
Despite multiple schemes running for the street vendors, there are various gaps in implementation, identification, awareness and accessibility of various schemes which should be plugged in a timely manner.
Benefits like maternity allowances, accident relief, natural death compensation, education support for children for higher studies, pension during any crisis should be provided to them.
---
In order to test the dynamic knowledge of the candidate, UPSC and other Government  Exams will have questions regarding the various schemes overseen by the Government of India. So the candidate is required to know about these schemes. More government schemes here